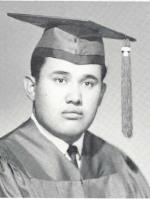 Modesto Jesus Padilla
October 6, 1946 - July 5, 2019
Modesto Jesus Padilla, 72 passed away last Friday, July 5, 2019 unexpectedly at the family's home. He was preceded in death by his parents, a younger sister, and his beloved grandson Tito. He is survived by his wife, Maria Luisa, their three daughters, several grandchildren & great grandchildren, and four siblings Luis, Jose, Andres, and Beatriz.
Modesto retired after working for over 30 years for the American Smelting and Refining Company (ASARCO) in copper mining. He was always involved with his church and in community service, as a member of the Nogales Volunteer Fire Department, and noted as an outstanding member the Arizona Masonic Lodge. He also served with the U.S. Army, Arizona National Guard in Nogales, with the Arizona Military Police Unit.
Final arrangements are being handled by Adair Funeral Home- Carroon Mortuary in Nogales. A Masonic Memorial Breakfast will be held at the Nogales Masonic Lodge, 1620 N Royal Rd, this coming Thursday, July 11th from 9 – 11 AM. A Catholic Mass will follow at Sacred Heart Church, 272 N Rodriguez St, at 3:30 PM concurrent with military honors. Private inurnment to follow at a later date at the Padilla family plot, at Nogales Cemetery.