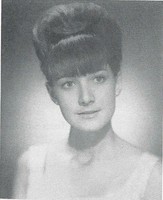 Nancy Taylor Campbell
August 5, 1948 - February 24, 2017
Nancy Campbell, diagnosed with cancer November 2015, passed away February 24 at UMC in Tucson surrounded by her family. Born Nancy Sue Taylor August 5, 1948 to Joyce Evelyn Taylor and Richard Taylor, Nancy graduated from Nogales High School and the University of Arizona (BA, MFA). After marrying Robert "Booter" Campbell in 1971, Nancy taught at Nogales Unified School District (K-6) for 25 years and as a second language instructor at Pima Community College. After a career in education, Nancy never retired from work. She took over a clothing store in Green Valley, re-named it Nancy Pantz, and ran it successfully until she became ill. In her spare time, Nancy cared for and welcomed others. Ever the hostess, Nancy gathered family and friends among a variety of adopted cats and dogs for her famous Mexican meals. Nancy's Christmases are legendary; from gifts to food, she strategically conquered the day by making everyone feel like a winner. As a lover of art and travel, Nancy traveled far and wide, but especially loved her visits to the beach in San Carlos.
Nancy is survived by Joyce Taylor, mother; Patricia Taylor, sister; Robert "Booter" Campbell, husband; Tim Campbell, son; Zak Campbell, son; and Robert Campbell, grandson.
In lieu of flowers, please send donations in Nancy's name to the St. Andrew's Children's Clinic.