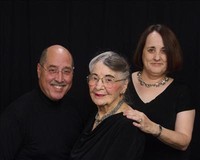 Linda Downs Gomez, 64, died at her home Monday morning March 17th, 2014. She was born in Nogales, AZ, March 20, 1948. Linda was her high-school class president and an outstanding vocalist and musician, even being selected to play in Carnegie Hall. After high school, she was interested in medicine and studied nursing. She later chose to go into law and became a paralegal working at Legal Aid in Denver, Colorado.
In the early 90's, Linda started her own fiduciary services business, which continues to advocate for the elderly and disabled. Additionally, Linda volunteered actively in numerous organizations supporting women, the elderly and the disabled. She loved music, art, nature, traveling when she could and spending time with her kids and grandkids.
She was truly an amazing person, and we are blessed to have had her in our lives. She is preceded in death by her parents, John Edwin Downs and Carmen Hand Downs of Nogales, AZ, and her sister Brenda Richardson of Las Vegas, NV. She is survived by her husband, Paul Gomez; her sons Shawn (Andreya and children Xavier and Pascale) of Durham, NC and Joe of Westminster, CO. She is also survived by her brothers Charles Downs of Highlands Ranch, CO and James Downs of Tempe, AZ. Rosary will be at Saint Jude Catholic Church, 9405 West Florida Ave., Lakewood, CO at 10:30 AM Monday, March the 24th followed by Memorial Mass at 11:00 AM. Memorial donations in Linda's honor may be made to the March of Dimes or a favorite charity.